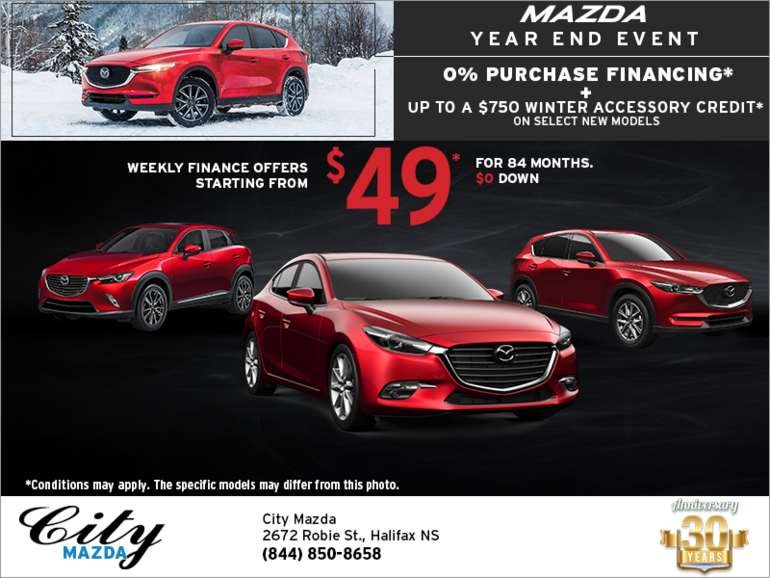 The Mazda Year End Event!
Get 0% purchase financing on select new models
PLUS get up to a $750 winter tire credit on select new models!
Some conditions apply. This offer ends on January 2nd, 2019.
Book your test drive online today!
▲0%APR Purchase Financing is available on select new 2018 Mazda models. Excluded on 2018 MX-5 ST/MX-5 RF and all 2019 models. Based on a representative agreement using an offered pricing of $17,695 for the new 2018 Mazda3 GX (D4XK68AA00) with a financed amount of $18,000, the cost of borrowing for a 72-month term is $0, monthly payment is $250, total finance obligation is $18,000. Offer includes freight and P.D.E. of $1,695. Offer excludes PST/GST/HST.
▼Winter Accessory Credit offer (value up to $750) is available to qualifying retail customers who cash purchase/finance/lease a new, in-stock 2018 and 2019 Mazda model from an authorized Mazda dealer in the Atlantic Region between November 1, 2018 – January 2, 2019. Customer can substitute a cash discount of up to $750. Amounts vary by model: $300 on all 2018 Mazda3/Mazda3 Sport, on all 2018 Mazda6, on all 2019 CX-3 and on all 2018 CX-5 models. $475 on 2019 MX-5 ST GS models. Maximum $750 on all 2018 MX-5 ST/MX-5 RF, on 2019 MX-5 ST GS-P & GT models, on all 2019 MX-5 RF models and on all 2018 & 2019 CX-9 models. Cash discount substitute applied before taxes. Some conditions apply. See dealer for complete details.