Stacey's CX-5!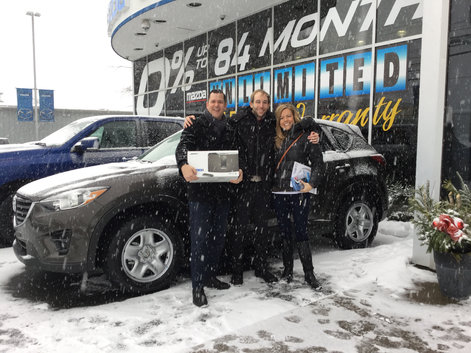 Thanks so much to everyone at City Mazda for making this such a great experience! Absolutely wonderful service!
Other customers satisfied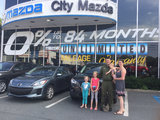 Staff were very professional and courteous. Definitely recommend City Mazda.
When shopping for a replacement for my 2002 Protégé 5, City Mazda was naturally one of the first places I went to. Unfortunately though, at no fault of the dealership, I had to go with a different make. The Mazda3 was too small for a tall couple with kids and CX-5 was just a bit too expensive.
However, the salesman we dealt with was great. Getting cars to test drive multiple times was no problem. I'm not sure if it is a Mazda thing, or just this dealership but they also always have cars with manual transmissions available for all the makes I test drove. This also included the Mazda5 and Mazda6. Let me tell you, some other manufacturers may say they offer manual transmission, but for a dealer to actually have it in stock can be very rare.
I had been bringing in my old car for service here for a few years and I have noticed a huge improvement in the last couple of years. Not only is the newly renovated waiting area really nice, but the service itself is much better than it used to be!
Great deal! Great service!
We purchased a Mazda3 from City Mazda. Our salesman, Addesh Mago, was amazing to deal with! Great deal, great service, no pressure!!!
See all testimonials