More info and pictures about the 2017 Mazda MX-5 RF
March 31 2016, City Mazda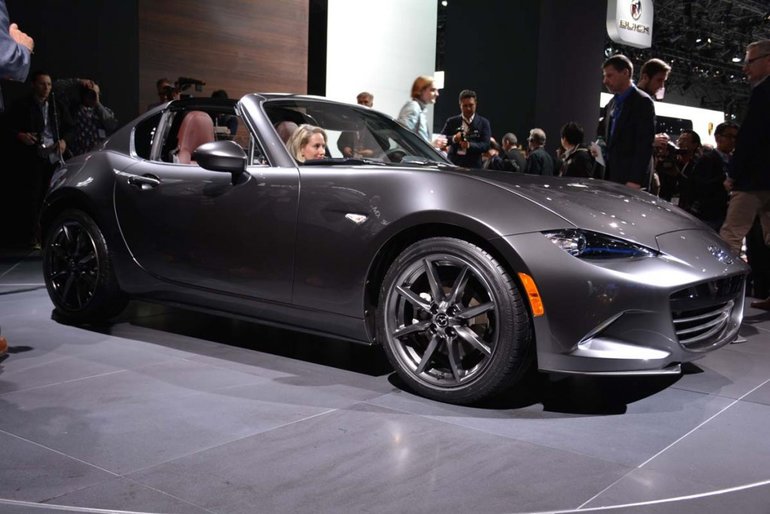 You might not have realized it, but the 2017 Mazda MX-5 RF is precisely the car you've been waiting for, and we're here to tell you precisely why that is.
We already talked a little bit about the Mazda MX-5 RF, but given how strong the reaction has been to Mazda's newest MX-5, we thought you may want some more information... and pictures!
From a near perfect 50/50 weight balance, to ideal power-to-weight ratio, superb handling, stunning styling, and now a retractable hardtop roof, really the 2017 Mazda MX-5 RF is pure automotive perfection in every sense.
So, just when you thought the Miata (now known as the MX-5) couldn't get any better, the designers and engineers at Mazda Motor Corporation pulled out all the stops and unveiled the all-new and absolutely gorgeous from every angle 2017 Mazda MX-5 RF.
The 2017 Mazda MX-5 RF's retractable hardtop is a sight to see
With a retractable hardtop roof (that goes up or down in less than 12 seconds and up to speeds of about 10km/h), which actually leaves the C-pillars in place to create a targa effect, the MX-5 RF is glorious to behold and set to be just as incredible to drive. And why call it the MX-5 RF? Well, the Japanese automaker decided that the unique look and feel of the new RF deserved it's own name, and the RF stands for Retractable Fastback (RF won't appear anywhere on the car in terms of badging, though). Pretty darn cool.
Obviously, the retractable hardtop has added some weight to the MX-5, and we all know weight is the ultimate enemy when it comes to lightweight sport-y vehicles. So, while Mazda weren't clear on precisely how much the fancy new retractable roof weighs, it's less than the previous generation hardtop.
A SKYACTIV engine for the 2017 Mazda MX-5 RF
North American models will come equipped standard with A SKYACTIV-G 2.0L I-4 that's good for 155 horsepower and 148 lb-ft of torque. The Mazda MX-5 RF is expected to come standard with a 6-speed manual transmission, blissfully. Globally, the MX-5 RF will come equipped with a SKYACTIV-G 1.5L I-4 mill.
The Mazda MX-5 is a purely unadulterated driving machine that's a pleasure to pilot on the open road. Roof up or down, this spunky little roadster is heaps of fun. Now, with a brand new body style that adds a whole new level of cool factor and design element to the two-seater, the 2017 Mazda MX-5 RF has flown to all new levels and is sure to be a hit with both drivers, passengers, and observers.
To find out more about the all-new 2017 Mazda MX-5 RF and its cool new retractable hardtop roof, head down to your local City Mazda dealer to speak to one of our experts. And you don't want to forget to book a test drive for when the MX-5 RF hits showrooms later this year in the fall.