Jessica's first Mazda ,
Welcome to the Mazda family! This is our first brand new car and the experience was great! We felt very well informed and taken care of.
Other customers satisfied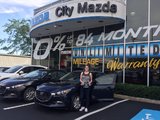 My very 1st Brand New Car!!!
Congrats to Sarah Paul on the purchase of her 2017 Mazda 3 Special Edition! Zoom Zoom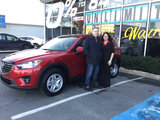 Excellent service start to finish!
Super excited about her new Mazda 3!!!
Mikes 4th Mazda here at City Mazda!!!!!!
See all testimonials